Villa Casale della Quercia
(District Taormina - Catania - Etna)
Villa Casale della Quercia is an unique property with private saltwater pool 18x5mt and private garden located on the south-eastern flanks of Mount Etna, surrounded by a charming Garden and paved terraces, with a superb outlook over the surrounding countryside and the Mount Etna and far away from city noise. It incorporates a rare and privileged position, great views on the landscape and exquisite interiors.
: 6: 3
: 4
Villa Agata
(District Taormina - Catania - Etna)
Villa Agata combines the coziness of spacious rooms with modern comfort and convenience. One of our finest villas that is tailor made for families with kids or large groups seeking intimacy and amenities. What makes this location absolutely fascinating is the breathtaking view of Mount Etna from the enchanting pool and the luxuriant garden surrounding all the House and from the paved terrace on the first floor.
: 8: 4
: 4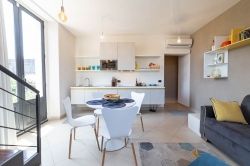 Suite Apartment Cavour
(District Taormina - Catania - Etna)
Suite Cavour is up to 2 guests, perfect for romantic gateaway. It's stylish, illuminated and set over two floors with a fully equipped induction kitchen combined with dining/living area, Led Television, and air-conditioning. On the first floor is the complete bathroom and another little balcony. Upstairs is the cozy and modern bedroom. The apartment is located in the heart of the fishing city center of Riposto.

: 2: 1
: 1
Villa Trinacria
(District Taormina - Catania - Etna)
Villa Trinacria is a charming property, equipped with an extensive range of comfort, in a unique idyllic panoramic position, with Private Swimming Pool and Garden. Sourrended by the Sicilian countryside, the Villa overlooks the coast and offers a glimpse of Mount Etna, just behind and overlooking the Ionian coast. The elegant interiors, the verdant garden and the inviting pool all make for a privileged, refined atmosphere.
: 15: 5
: 5
Villa Luna Rossa
(District Taormina - Catania - Etna)
Villa recently restored, spirited style and cozy inside, with a touch of typical Sicilian in the garden and in the House of wood outside. Villa Luna Rossa has a spectacular view on Mount Etna and a direct access to the beach. With its dreamy al fresco dining and relaxation areas, with its garden and its setting just in front of the sea Villa Luna Rossa has been designed with relaxation, amusement and conviviality in mind!
: 15: 5
: 2
Suite Apartment Isabella
(District Taormina - Catania - Etna)
Suite Isabella is on the first floor of an attractive seafront building in a really unique location: right between Isola Bella and Mazzarò. Luminous interiors flow out onto wide panoramic terrace overlooking the most beautiful bay in the Ionian sea, elegant and modern interiors make Suite Isabella one of the finest property in our portfolio. Perfect for relaxing hours basking in a gentle fresh breeze!
: 4: 2
: 2
Villa Elisabetta
(District Taormina - Catania - Etna)
Villa Elisabetta is immersed in the countryside that characterize the Mount Etna area. The villa is surrounded by a garden with a dreamy swimming pool. This two floors villa boasts elegant, spacious interiors for up to 10 guests. A welcoming ambience with a fully equipped kitchen combined with dining area, three bedrooms, with en-suite bathrooms.Fully air conditioned, with internet wi-fi unlimited, this villa offers all the comforts of modern living combined with a relaxing atmosphere.
: 10: 3
: 4
Villa Ninetta
(District Siracusa - Ragusa - Noto)
Located at 2 km from the charming beaches of Santa Maria del Focallo, it is composed by two separate apartments. The Villa is surrounded by a garden with olive and orange trees, parking for cars, barbecue area, swimming pool and tennis table. The apartments have their own separate entrance and can accommodate 5/6 guests. Air conditioning and internet wi-fi in included.
: 12: 4
: 2
Villa Stella Marina
(District Siracusa - Ragusa - Noto)
Fully equipped private Villa with modern furniture is 900 mt away from the superb beach of Marina di Ragusa. There are a spacious living room with a fully equipped kitchen inserted in a cabinet that can be placed out of sight by a door, a dining room, 3 bedrooms and 2 complete bathrooms. Outdoor a summer kitchen with a dining room in an airy veranda introduce to the furnishings verdant garden and a large private swimming pool perfect to spend the sunny cheerful hours of your summer in Sicily.
: 6: 3
: 2
Villa Pietra Bianca
(District Siracusa - Ragusa - Noto)
Villa Pietra Bianca is located at 400 meters from the charming beaches of Santa Maria del Focallo, just 10 minutes away from Pozzallo. The Villa has three fully equipped open spaces kitchens with dining rooms, two large living rooms, five bedrooms and four complete bathroom. Outdoor a private swimming pool with sun beds surrounded by a garden with outdoor furniture, a BBQ area and a hammock accomplish the villa for an unforgettable holiday in Sicily.
: 10: 5
: 4
Apartment in Villa Panorama
(District Taormina - Catania - Etna)
Apartment Panorama is a nicely furnished Apartment in Villa with garden, in the quiet countryside of Calatabiano, close to Giardini Naxos and Taormina. The property has a privileged position because it is located on the top of a hill from which you can enjoy a beautiful view on the whole coast, from Etna to Riposto and Taormina. Apartment Panorama is surrounded by countryside, ensuring privacy and tranquility.
: 6: 2
: 1
Suite Apartment Acquamarina
(District Taormina - Catania - Etna)
Suite Apartment Acquamarina is perfectly located for a holiday at the centre of one of Sicily's most beautiful areas. Recently refurbished to a high level, this is the property to rent if you want to explore the coast and its beauty: from the magnificent Catania to the pure Etna.
The property is located in Torre Archirafi, a small peaceful village close to Riposto, famous for its sea-port. Mount Etna overlooks the coast and gives beautiful views in the summer bright sky.
: 4: 2
: 1
Villa Gemma
(District Siracusa - Ragusa - Noto)
Villa Gemma is a cozy modern villa perfect for a sea holiday in Sicily. The turquoise water and the sandy beach of Punta Secca is just down the road only 70 meters far from the villa. The fisher village of Punta Secca has become well known abroad thanks to the successful RAI series Inspector Montalbano, based on the novels by the writer Andrea Camilleri. The main villa has 3 double bedrooms and its annexe has a double bedroom and a comfortable sofabed, together sleeping up to 10 people.
: 10: 4
: 3
Villa del Filosofo
(District Taormina - Catania - Etna)
A fascinating, elegant Villa with extensive gardens and pool. Just a short drive from Giardini Naxos and some glorious sandy and pebble beaches, Villa del Filosofo has recently been restored and refurbished. The interiors feature a blend of local, elegant and traditional pieces, many of which are originals from the owners' Sicilian family. The house is surrounded by a luxuriant garden, fruit trees and plenty of outside living areas.
: 2: 11